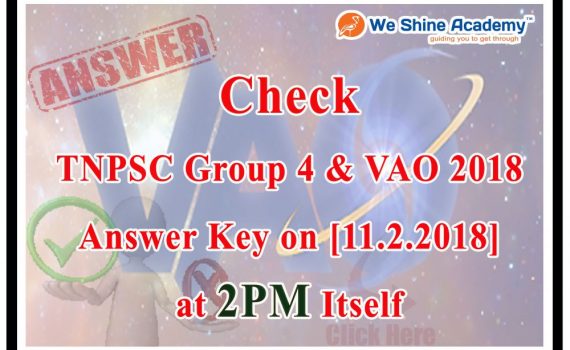 TNPSC Group 2 Answer Key 2018 Download
You Can Also Check Answer Key Here
We Shine Provides TNPSC VAO Answer Key 2018. We Shine has always been famous because . They know that Early Bird Catches the Worm . And they will start the Preparations for these Exams Early. We shine Academy provides the previous year Question Paper for the aspirants as model question paper with TNPSC VAO Answer Key 2018.
TNPSC VAO Answer Key 2018 – Click Here
We Shine Academy 's Method and Technique for these Exams:
We Shine Academy will be providing previous year answer keys and latest updated answer keys TNPSC VAO Answer key 2018 in Bilingual language ( Tamil) and (English for the academic year which will be known as TNPSC VAO Answer Key 2018
We Shine Academy 's one of the High Light is it provides Special Care and Attention for Each and Every Individual Aspirants. Most of the Aspirants use to Clear the Exams Who have joined in We Shine Academy for Competitive Exams .
Faculties are expertise in finishing the syllabus quickly and at the very same time , they will handle the syllabus in such a way the aspirants will feel the easy to prepare . so that there confidence level will be increased .
There are shortcut and techniques to crack these exams which will be taught by our expert and professional faculties. As soon as the syllabus gets over the revision and test batch for these exams will start so that they can analyse and evaluate them.
Previous year TNPSC and VAO Answer Key for these Exams will be provided Updated and accurate TNPSC VAO Answer Key 2018 is provided for the current Academic year 2018.
Tamil Nadu Public Service Commission is One of the Department which comes under the Authority of the Tamil Nadu Government which is responsible for the Recruitment of Personnel in the State Government in the various department which is governed by them .
TNPSC has Appraise that VAO which is nothing but basically ( Village Administrative Officer Exams ) for the Academic year 2018. TNPSC has announced a Job Vacancy of 9351 for TNPSC VAO Exams .TNPSC has announced that aspirants who are willing to Apply for the TNPSC Exams can apply for the TNPSC (VAO) Exams at there registered Website for the year 2018. Tamil Nadu Service Commission had announced that the Question Pattern will be quite different this time . And it will be announced by the TNPSC.
Tamil Language- Click Here