We Shine Daily News
செப்டம்பர் 30
தமிழ்
Download Tamil PDF – Click Here
Download English PDF – Click Here
இந்திய நிகழ்வுகள்
2019ம் ஆண்டிற்கான UNWTO (United Nations World Tourism Organization) அமைப்பிற்கான அதிகாரப்பூர்வ உலக சுற்றுலா தின கொண்டாட்டங்களை (செப்டம்பர் 27, 2019) இந்தியா நடத்தவுள்ளதை பிரபலபடுத்தும் விதமாக, 'வியக்கத்தகு இந்தியா' என்னும் கைப்பேசி செயலியையும், "வியக்கத்தகு இந்தியா சுற்றுலா வழிவகை செய்வோர் சான்றிதழ் திட்டத்தையும்" மத்திய சுற்றுலாத் துறை அமைச்சகம் தொடங்கியுள்ளது.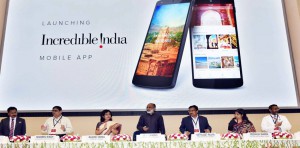 பெங்களுரின் இந்திய அறிவியல் கழகம் ஆனது, 2019 – ஆண்டின் டைம்ஸ் உயர் கல்வி உலகளாவிய பல்கலைக்கழக தரவரிசைப் பட்டியலில் இந்தியாவின் சிறந்த பல்கலைக்கழகமாக (உலகளவில் 251-300 வரிசையில் உள்ளது) முதலிடத்தில் உள்ளது.

ஐ.ஐ.டி. இந்தூர் ஆனது (உலகளவில் 351-400 வரிசையிலும்) நாட்டின் இரண்டாவது இடத்தைப் பிடித்துள்ளது.

குறிப்பு:

இந்த தரவரிசையில் உலகளவில் ஆக்ஸ்போர்டு பல்கலைக்கழகம் முதலிடத்தையும், கேம்பிரிட்ஜ் இரண்டாவது இடத்தையும் பெற்றுள்ளது குறிப்பிடத்தக்கது.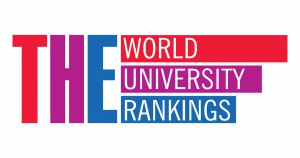 மகாத்மா காந்தியின் 150வது பிறந்த நாளின் இரண்டு ஆண்டு கால கொண்டாட்டங்களை தொடங்குவதற்காக நெதர்லாந்தின் ஹேக் பகுதியில் உள்ள சமாதான அரண்மனையிலிருந்து குரோட் கெர்க் பகுதி வரையிலான "காந்தி நடைப் பயணத்தை" இந்தியா ஏற்பாடு செய்துள்ளது.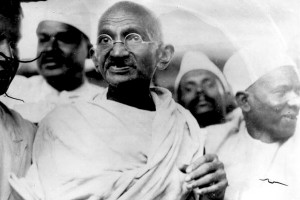 மத்திய வீட்டுவசதி மற்றும் நகர்ப்புற விவகாரங்கள் அமைச்சகத்தால் (MoHUA) அறிமுகப்படுத்தப்பட்ட 'வாழ்வதற்கு உகந்த குறியீட்டு தரவரிசை' மாநிலங்களின் பட்டியலில் ஆந்திரப் பிரதேசமானது முதலிடத்தில் உள்ளது.

இப்பட்டியலில் ஒடிஷா இரண்டாம் இடத்திலும், மத்தியப் பிரதேசம் மூன்றாம் இடத்திலும் உள்ளது. இந்த வாழ்வதற்கு உகந்த குறியீடானது அம்ருத் அமைச்சகத்தின் (புனரமைப்பு மற்றும் நகர்புற மாற்றத்திற்கான அடல் திட்டம் உருமாற்றும் முயற்சியாகும்.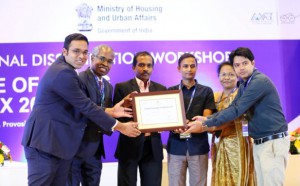 உலக நிகழ்வுகள்
நெல்சன் மண்டேலா – சமாதானத்தின் தசாப்தம் :

இந்த ஆண்டு நெல்சன் மண்டேலா-வின் 100 வது பிறந்த ஆண்டை முன்னிட்டு, ஐ.நா. சபையானது 2019-2028 காலத்தை 'நெல்சன் மண்டேலா சமாதானத்தின் தசாப்தம்' என அறிவித்துள்ளது.

மேலும், தென்னாப்பிரிக்காவில் பிறந்த நெல்சன் மண்டேலாவின் பிறப்பை கவுரவிக்கும் வகையில் அவரது சிலையானது ஐ.நா. சபையில் திறக்கப்பட்டுள்ளது.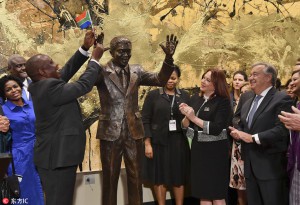 அரசியல் மற்றும் முடிவெடுக்கும் செயல்முறைகளில் பெண்களின் பங்களிப்பை சுட்டிக் காட்டும் விதமாக, முதன்முதலாக பெண் வெளியுறவுத்துறை அமைச்சர்கள் மட்டும் பங்கேற்ற மாநாடு கனடாவின் மாண்ட்ரியலில் நடைபெற்றுள்ளது.

இந்த மாநாடானது கனடாவின் சிறந்த இராஜ தந்திரியான கிறிஸ்டியோ ஃபிரீலாண்ட் மற்றும் ஐரோப்பிய ஒன்றியத்தின் வெளியுறவுத் துறை பிரதிநிதியான ஃபெடரிகா மொஹெரினி ஆகியோரால் தலைமை தாங்கப்பட்டது.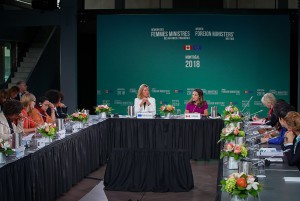 முக்கிய தினங்கள்
சர்வதேச ஒட்டுமொத்த அணு ஆயுத ஒழிப்பு தினம் – செப்டம்பர் 26

உலகளாவிய அளவில் அணுசக்தி ஆயுதங்களை குறைப்பதே மிக முக்கியம் என்பதை உலக சமுதாயத்திற்கு வலியுறுத்துவதற்காக, ஒவ்வொரு ஆண்டும் செப்டம்பர் 26ம் நாள் சர்வதேச ஒட்டுமொத்த அணு ஆயுத ஒழிப்பு தினம் (International Day for the Total Elimination of Nuclear Weapons) கொண்டாடப்படுகிறது.

இத்தினமானது டிசம்பர் 2013ல் ஐ.நா. பொதுச் சபையில் தீர்மானம் நிறைவேற்றப்பட்டு, 2014ம் ஆண்டு முதல் கொண்டாடப்பட்டு வருகிறது.

குறிப்பு :

சர்வதேச அணுசக்தி சோதனைகளுக்கு எதிரான தினமாக ஆகஸ்ட் 29ஐ ஐ.நா. பொதுச்சபையானது அறிவித்தது குறிப்பிடத்தக்கது.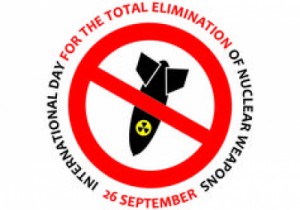 உலகக் கடல் தினம் – செப்டம்பர் 27

கடல் பாதுகாப்பு, கடல் போக்குவரத்து பாதுகாப்பு மற்றும் கடல் சூழல் ஆகியவற்றின் முக்கியத்துவத்தை வலியுறுத்துவதற்காக, ஒவ்வொரு ஆண்டும் செப்டம்பர் மாதத்தின் கடைசி வியாழக்கிழமையன்று உலகக் கடல் தினமாக கடைபிடிக்கப்படுகிறது

இத்தினத்தின் கருத்துரு : "IMO70 : நமது மரபுரிமை – சிறந்த எதிர்காலத்தற்கான சிறந்த கடல் போக்குவரத்து"

இத்தினமானது முதன் முதலாக 1978ல் கொண்டாடப்பட்டது குறிப்பிடத்தக்கது.

English Current Affairs
NATIONAL NEWS
To mark the beginning of the 150th birth anniversary celebrations of Mahatma Gandhi and Swachh Bharat Mission, the President of India, Shri Ram Nath Kovind, inaugurated the Mahatma Gandhi International Sanitation Convention in New Delhi. It was organised by the Ministry of Drinking Water and Sanitation.
The Assam government will launch the Universal Pension scheme in the state on the 2nd October, the birth anniversary of the father of the nation Mahatma Gandhi. The State Cabinet also decided to exempt small tea growers from the levy of cess amounting to 10 paise per kilogram.

Under the scheme, the pension will be given to citizens over 60 years of age. The Cabinet also sanctioned an amount of 50 lakh rupees to filmmaker Rima Das whose movie Village Rockstar has been nominated for Oscars.
The Assam government will provide electricity connection to all households by December 31st this year under SOUVAGYA scheme. Over 13 lakh families remaining will get connection by this year and 40 thousand solar connection would be given at difficult areas.
Prime Minister Narendra Modi inaugurated the Conference on Academic Leadership on Education for Resurgence in New Delhi in which the Vice-Chancellors, Directors from more than 350 universities participated.

The theme of the conference is to deliberate on challenges facing the Indian education system and to work out a plan for a paradigm shift both in terms of achieving academic outcomes and also in the regulation of education.
In Madhya Pradesh, the first corn festival of the country is being held in Chhindwara. The festival is one of a kind international event. Madhya Pradesh is one of the largest corn producing states in India, with Chhindwara being the highest corn producing district.
The Ministry of Housing and Urban Affairs, under the aegis of Swachh Bharat Mission, has partnered with Google to launch the Loo Review campaign to encourage all local guides in India to rate and review public toilets on Google Maps.

Google is a committed partner in achieving the Government's vision of a Swachh Bharat. 'Public toilets near me' is a feature that is supported across Google Maps, Search and the Assistant.
NITI Aayog on behalf of government of India signed the 'Government of India-United Nations Sustainable Development Framework (UNSDF) for 2018-2022'. It was signed between: CEO NITI Aayog, Amitabh Kant and United Nations Resident Coordinator in India, Yuri Afanasiev.

It comprises of seven priority areas that outline the work that UN agencies will undertake jointly or individually, fully aligned with the priorities of the GoI. NITI Aayog is the national counterpart for the UN in India for the operationalization of the UNSDF.
India and Japan sign Loan Agreement for Construction of Mumbai-Ahmedabad High Speed Rail Project (I) and Kolkata East West Metro Project (III) with Japan International Cooperation Agency (JICA), in New Delhi.

Objective of the individual projects: Mumbai-Ahmedabad High Speed Rail Project (I) will construct high speed rail between Mumbai and Ahmedabad with Japanese technology for mass transportation. Kolkata East West Metro Project (III) will reduce traffic demand in Kolkata metropolitan area.
Shri Dharmendra Pradhan, Union Minister of Petroleum and Natural Gas & Skill Development and Entrepreneurship will kick off an innovative initiative in New Delhi on 1st October, 2018. Titled SATAT, the initiative is aimed at providing a Sustainable Alternative Towards Affordable Transportation (SATAT) as a developmental effort that would benefit both vehicle-users as well as farmers and entrepreneurs.

It will be initiated with PSU Oil Marketing Companies (OMCs ,i.e. IOC, BPCL and HPCL) inviting Expression of Interest (EoI) from potential entrepreneurs to set up Compressed Bio-Gas (CBG) production plants and make available CBG in the market for use in automotive fuels.
INTERNATIONAL NEWS
Typhoon Trami hit Japan's southern island of Okinawa with a maximum speed of 216 kilometres per hour. Some 600 people have been evacuated to shelters and at least 386 flights have been cancelled mainly in western Japan.
China will hold the fifth World Internet Conference (WIC) in its river town of Wuzhen in November. This year's WIC will be held in China's Zhejiang province under the theme of "creating a digital world for mutual trust and collective governance — towards a community with a shared future in cyberspace".
ECONOMY
Fitch Ratings placed Bank of Baroda's (BoB) viability rating on 'rating watch negative' following the government announcement to merge it with Vijaya Bank and Dena Bank. VRs represent Fitch's view as to the intrinsic creditworthiness of an issuer. BoB's VR stands at 'bb' – which denotes moderate prospects for ongoing viability.
APPOINTMENTS
Senior diplomat Vikram Misri has been appointed as India's next ambassador to China. He will replace Gautam Bambawale. Misri, a 1989-batch India Foreign Service (IFS) officer, is presently serving as Indian envoy in Myanmar.

He has served in various Indian Missions in Europe, Africa, Asia and North America. Misri had taken charge as India's Ambassador to Myanmar on August 31, 2016.
AWARDS
Tourism Minister K J Alphons presented National Tourism Awards 2016-17 at Vigyan Bhawan, New Delhi. The awards were given in various segments of the Travel, Tourism and Hospitality Industry. Qutub Minar begged an award for being the best monument for differently-abled, while Ahmedabad and Mandu were jointly declared the 'Best Heritage City' in the country.

Andhra Pradesh bagged the first prize in state category for comprehensive development of tourism. It got the prize for promoting Andhra Pradesh Tourism as a global tourism brand whereas Kerala bagged the second prize for comprehensive development of tourism and Rajasthan & Goa jointly shared the third prize    
'INTACH Heritage Walks Delhi' along with 'Indore Heritage Walk' were together announced winners in the category of 'Best Heritage Walk'.
IMPORTANT DAYS
World Heart Day is celebrated every year on September 29, Organised by the World Heart Federation.

'Your heart, my heart' is the 'World Heart Day Theme: this year.
World Maritime Day 2018

Every year the International Maritime Organization (IMO) celebrates World Maritime Day on 27 September.
The year 2018 marks 70 years of the IMO, and the theme for the Day is 'IMO 70: Our Heritage – Better Shipping for a Better Future'.