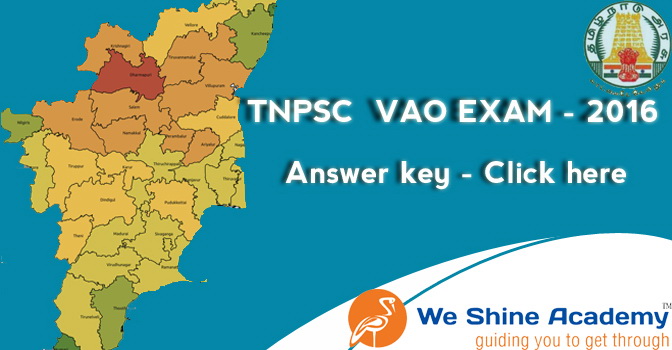 [message_box title="Mission Impossibile to Possible" color="red"]Our Next Target!!![/message_box]
Tnpsc VAO Answer key 2016
Dear TNPSC Exam Aspirants..Hope its going well with your Preparation for Your Tnpsc VAO Exam Dated on Sunday 28th February 2016.
Description
Number Of Vacancies: 813 vacancies.
Name Of Post : Village Administrative Officer
Organisation : Tamilnadu Public Service Commission (TNPSC)
Date Of Notification: 12.11.15
Date Of Examination: 28.02.16
About eight lakh students have applied for the tnpsc vao exam 2016. The serious applicants can just view our model papers and verify with our answer key.
After publishing the Answer key for Group 2A Non interview post we get a good response and support from you people which again encouraged us to strive to work for the vao exam answer key too…
Keep Posted… We will be back with the tentative answer key for the TNPSC VAO answer key 2016 to be held on Sunday February 28th.
[message_box title="" color="red"]
Date:28th February
Day:Sunday
Time: Between 3:00pm – 3:30pm.
[/message_box]
Tentative Answer key for TNPSC VAO 2016 Open Now

Tentative Answer key for Tnpsc vao 2016 will be released for
General English (Q.no 1 – Q.no 80) Click Here Click Here Click Here
General Tamil (Q.no 1 – Q.no 80)  Click Here Click Here Click Here
General Studies (Q.no 81 – Q.no 200) Click Here Click Here Click Here
Due to heavy congession..you might undergo error…try refreshing the page till the file is loaded.
For get FREE TNPSC Group 4 and upcoming EXAM  material to Fill this form
Thank you..
WESHINE TEAM.
Check our other VAO model Question Papers Click Here