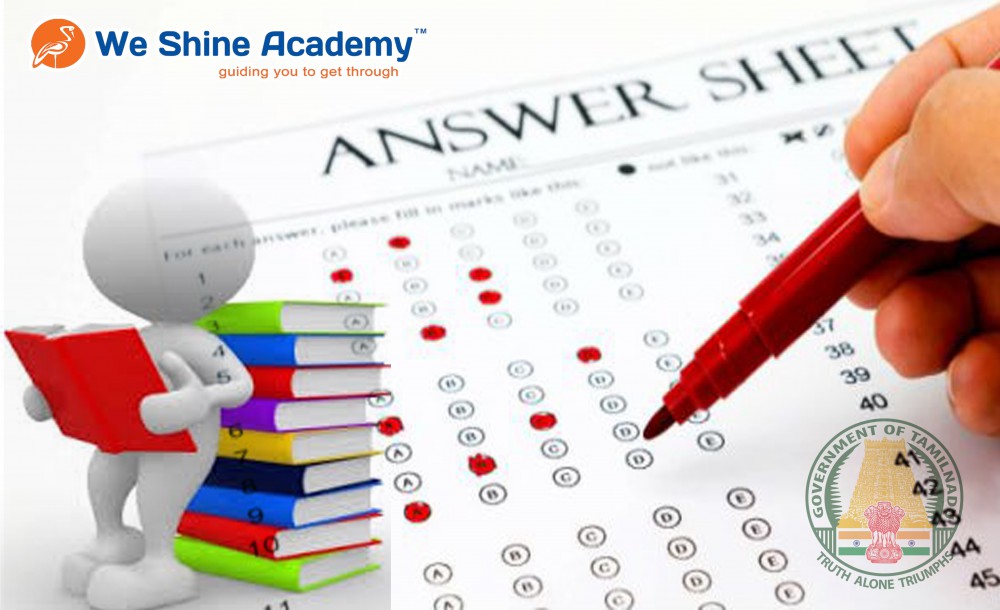 TNPSC Answer Key
TNPSC (Tamil Nadu Public Service Commission) is a Tamil Nadu state Government Exam. TNPSC(GroupI, GroupII, Group IV) and VAO are most Popular Exam among Tamil Nadu students.
TNPSC and VAO Exam patterns are changing year by year so as the competition to achieve success. With the growing competition getting a rank in TNPSC or VAO Exams is a great achievement. With the growing competition, everyone wants instant results.
So it is obvious that the TNPSC and VAO Exam students after appearing for Exams need Guidance of answers to know the result their itself.
To make the search easier and comfortable. We shine academy publish all the TNPSC Group Exam Key and VAO Answer Keys in the site itself.
We provide a Precise and Updated answer to TNPSC and VAO Exams.
To  Get Free TNPSC and POLICE Exam Material 
[su_frame][/su_frame]
TNPSC Aptitude Booklet Answer Key
TNPSC Answer Key 
(Test Code: 032E)
TNPSC Answer Key 
(Test Code : 032T )
TNPSC Answer Key 
(Test Code: 031E)
TNPSC Answer Key 
(Test Code: 031T)
TNPSC Answer Key 
(Test Code : 030 )
TNPSC Answer Key 
(Test Code : G2AT )
TNPSC Answer Key 
(Test Code: G2E)
TNPSC Answer Key 
(Test Code : 029)
TNPSC Answer Key 
(Test Code: 006)
TNPSC Answer Key 
(Test Code: 028)
TNPSC Answer Key 
(Test Code: 005)
TNPSC Answer Key 
(Test Code: 027T)
TNPSC Answer Key 
(Test Code: 026T)
TNPSC Answer Key 
(Test Code: 026E)
TNPSC Answer Key 
(Test Code: 004)
TNPSC Answer Key 
(Test Code: 003)
TNPSC Answer Key
 (Test Code: 025)
TNPSC Answer Key (Test Code : 023)
TNPSC Answer Key (Test Code : 001)
TNPSC Answer Key (Test Code : 001B)
TNPSC Answer Key (Test Code: 024E)
TNPSC Answer Key (Test Code: 024T)
TNPSC Answer Key (Test Code : 002)
TNPSC Answer Key (Test Code : 023)
TNPSC Answer Key (Test Code : 001)
TNPSC Answer Key (Test Code : 001B)
TNPSC Answer Key (Test Code : 001A)
TNPSC Answer Key (Test Code : 022)
TNPSC Answer Key (Test Code : 021T)
TNPSC Answer Key (Test Code : 021E)
TNPSC Answer Key (Test Code : 020)
TNPSC Answer Key (Test Code : 019T)
TNPSC Answer Key (Test Code : 019E)
TNPSC Answer Key (Test Code : 018)
TNPSC Answer Key (Test Code : 017T)
TNPSC Answer Key (Test Code : 017E)
TNPSC Answer Key (Test Code : 016)
TNPSC Answer Key (Test Code : 015T)
TNPSC Answer Key (Test Code : 015E)
TNPSC Answer Key (Test Code : 014)
TNPSC Answer Key (Test Code : 013T)
TNPSC Answer Key (Test Code : 013E)
TNPSC Answer Key (Test Code : 012)
TNPSC Answer Key (Test Code : 011)
TNPSC Answer Key (Test Code : 010E)
TNPSC Answer Key (Test Code : 010T)
TNPSC Answer Key (Test Code : 009)
TNPSC Answer Key (Test Code : 008)
TNPSC Answer Key (Test Code : 007)
TNPSC Answer Key (Test Code : 006)
TNPSC Answer Key (Test Code : 005)
TNPSC Answer Key (Test Code : 004)
TNPSC Answer Key (Test Code : 003GS)
TNPSC Answer Key (Test Code : 002GS)
Full Length – Mock Test 1 (Test Code : 001GS)
CCSE Group 4 – Mock Test 2 (Test Code : 002B)
CCSE Group 4 – Mock Test 2 (Test Code : 002A)
CCSE Group 4 – Mock Test 1 (Test Code : 001B)
CCSE Group 4 – Mock Test 1 (Test Code : 001A)
TNPSC CCSE Group 4
(Test Code : CSB4)
TNPSC CCSE Group 4
(Test Code : CSA4)
TNPSC VAO Answer Key
(Test Code : 124)
TNPSC VAO Answer Key
(Test Code : 102)
TNPSC VAO Answer Key
(Test Code : 103)
TNPSC VAO Answer Key
(Test Code : 104)
TNPSC VAO Answer Key
(Test Code : 105)
TNPSC VAO Answer Key
(Test Code : 106)
TNPSC VAO Answer Key
(Test Code : 107)
TNPSC VAO Answer Key
(Test Code : 108)
TNPSC VAO Answer Key
(Test Code : 109)
TNPSC VAO Answer Key
(Test Code : 110)
TNPSC VAO Answer Key
(Test Code : 111)
TNPSC VAO Answer Key
(Test Code : 112)
TNPSC VAO Answer Key
(Test Code : 113)
TNPSC VAO Answer Key
(Test Code : 114)
TNPSC VAO Answer Key
(Test Code : 115)
TNPSC VAO Answer Key
(Test Code : 116)
TNPSC VAO Answer Key
(Test Code : 117)
TNPSC VAO Answer Key
(Test Code : 118)
TNPSC VAO Answer Key
(Test Code : 119)
TNPSC VAO Answer Key
(Test Code : 123)
TNPSC CCSE Group 4
(Test Code : CSA3)
TNPSC CCSE Group 4
(Test Code : CSB3)