INDIAN Bank Exam Notification 2016
Post – Probationary Officers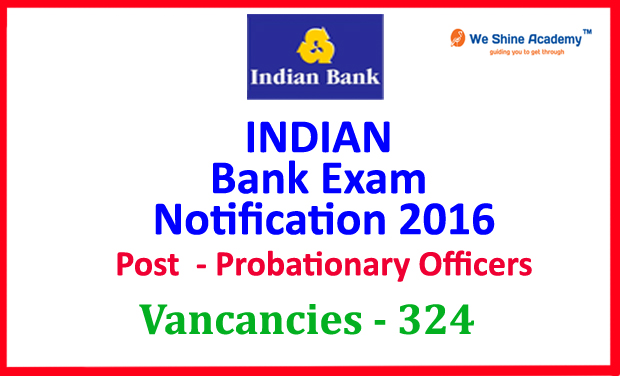 Indian Bank invites application from young and bright graduates who fulfill the eligibility criteria specified and who are interested in Banking career, for admission to the one year Post Graduate Diploma in Banking and Finance (PGDBF) course at Indian Bank Manipal School of Banking (IBMSB), which has been set up jointly by Indian Bank and Manipal Global Education Service Pvt Ltd.
Candidates will be selected through a selection process consisting of online Exam (Preliminary & Main Examination) followed by Personal Interview. Admission to PGDBF at Manipal Global Education Services, Bangalore (MaGE) comes with the assurance of a full-fledged Banking career with Indian Bank as a Probationary Officer on successful completion of the course.
A. Tentative schedule of events is as follows:
Important Dates

The Category wise number of candidates who will be selected to undergo the PGDBF at IBMSB is as follows:-
Note: The number of vacancies and also the number of reserved vacancies is provisional and may vary according to actual requirement of the Bank. The reservation for PWD is on horizontal
basis. The selected candidates will be placed in the appropriate category (viz. SC/ST/OBC/Unreserved) to which they belong to.
Abbreviations stand for: – SC – Scheduled Castes, ST – Scheduled Tribes, OBC – Other Backward Class, PWD – Persons with Disability, OC – Orthopedically Challenged, HI – Hearing Impaired, VI – Visually Impaired.
B. ELIGIBILITY CRITERIA AND GENERAL INFORMATION
a. Qualification (As on 01.07.2016) –Degree (Graduation) with a     minimum of 60% (55% for SC/ST/PWD) marks in aggregate in any discipline from a recognized University OR any
equivalent qualification as such recognized by Central Government.
b. Age (As on 01.07.2016) Minimum 20 years- Maximum 28 years i.e. a candidate must have been born not earlier than 02.07.1988 and not later than 01.07.1996 (both dates inclusive)
Relaxation in Upper Age Limit
Note:
Government guidelines in respect of age relaxation admission to an ex-serviceman shall be applicable.
The relaxation in upper age limit is cumulative, as per the Government Guidelines.
All Persons eligible for age relaxation under Point B (D) above must produce the domicile.
certificate at the time of interview from the District Magistrate      within whose jurisdiction he/she had ordinarily resided or any other authority designated, in this regard by Government of J & K to the effect that the candidate had ordinarily been domiciled in the State of J&K during 1st January 1980 and 31st December 1989.
All Persons eligible for age relaxation under Point B (E) above must produce a certificate from the District Magistrate to the effect that they are eligible for relief in terms of the Rehabilitation Package for 1984 Riot Affected Persons sanctioned by the Government and communicated vide Ministry of Finance, Dept. of Financial Services communication No.F.No.9/21/2006-IR dated 27.07.2007.
C. NATIONALITY/CITIZENSHIP
A candidate must be either i) a Citizen of India or ii) a subject of Nepal or iii) a subject of Bhutan or iv) a person of Indian origin who has migrated from Pakistan, Burma, Sri Lanka, East African Countries of Kenya, Uganda, the United Republic of Tanzania (formerly Tanganyika and Zanzibar), Zambia, Malawi, Zaire, Ethiopia and Vietnam with the intention of permanently settling in India. Provided that a candidate belonging to categories (ii), (iii)& (iv) above shall be a person in whose favour a certificate of eligibility has been issued by the Government of India.
PERSONS WITH DISABILITIES
Under Section 33 of the persons with disabilities (Equal Opportunities, Protection of Rights and full participation) Act 1995, only such persons would be eligible for reservation who suffer from not less than 40% of relevant disability and are certified by a Medical Board constituted by the Central/State Govt.
a. Orthopedically Challenged (OC):
Only those persons who have locomotor disability or cerebral palsy with locomotor impairment of minimum of 40% and only those who fall in the following categories are eligible to apply under OC category:-
BL-Both legs affected but not arms OA – One arm affected (R or L)
Impaired reach
Weakness of grip
Ataxia
OL-One leg affected (R or L)
MW – Muscular weakness and limited physical endurance
b. Visually Impaired(VI):
Only those persons who suffer from any one of the following conditions are eligible to apply under VI category:-
Visual acuity not exceeding 6/60 or 20/200 (Snellen) in the better eye with correcting lenses
Limitation of the field of vision subtending an angle or 20 degrees or worse.
A candidate having low vision means a person with impairment of visual functioning even after treatment
or standard refractive correction but who uses or is potentially capable of using vision for the planning or  execution of a task with appropriate assistive device.
C. Hearing Impaired (HI):
The deaf are those persons in whom the sense of hearing is non-functional for ordinary purposes of life i.e. total loss of hearing in both ears. They do not hear; understand sound at all even with amplified speech. Hearing Impairment means loss of sixty decibels or more in the better ear in the conversational range of frequencies.
At the time of examination, only blind/ low vision candidates and those candidates whose writing speed is affected by cerebral palsy can use own scribe/ writer at his/ her own cost. In all such cases, where a scribe/ writer is used, the following rules/ guidelines will apply:-
The candidate will have to arrange his/her own scribe at his/her own cost.
The scribe may be from any academic stream.
Both the candidate as well as scribe will have to give a suitable undertaking confirming that the scribe  fulfils all the stipulated eligibility criteria for a scribe mentioned above. Further in case it later transpires that he/she did not fulfill any laid down eligibility criteria or suppressed material facts the candidature of the applicant will stand cancelled, irrespective of the result of the examination.
Those candidates who use a scribe and visually impaired candidates who opt to view the contents of the  test in magnified font shall be eligible for compensatory time of 20 minutes for every hour of the examination.
The same scribe cannot be used by more than one candidate. In addition the scribe arranged by the candidate should not be a candidate for the examination. If violation of the above is detected at any stage of the process, candidature of both the candidate and the scribe will be cancelled.
Guidelines for candidates
With locomotor disability and cerebral palsy
Compensatory time of twenty minutes per hour shall be permitted for the candidates with locomotor disability and cerebral palsy where dominant (writing) extremity is affected to the extent of slowing the performance of function (minimum of 40% impairment), although no scribe shall be permitted to such candidates.
Visually Impaired candidates
Visually Impaired candidates (who suffer from not less than 40% of disability) may opt to view the contents of the test in magnified font. This facility will not be available to Visually Impaired .
candidates who use the services of a Scribe for the examination. Compensatory time of twenty minutes per hour shall be permitted to visually impaired candidates.
It is clarified that Persons with Disabilities on absorption in the Bank after their successful completion of the course will have to work in branches/ offices.
D. THE COMPETENT AUTHORITY FOR THE ISSUE OF THE CERTIFICATE TO SC/ST/OBC/PWD IS AS UNDER
For SC/ST/OBC
District Magistrate/ Additional Dist. Magistrate/ Collector/ Deputy Commissioner/Additional Dy.
Commissioner/ Dy. Collector/ First Class Stipendiary Magistrate/Sub-Division Magistrate/ Taluka
Magistrate/ Executive Magistrate/ Extra Assistant Commissioner
Chief Presidency Magistrate/ Additional Chief Presidency Magistrate/ Presidency Magistrate
Revenue Officer not below the rank of Tahsildar
Sub-Divisional Officer of the area where the candidate and/or his family normally resides
For Persons with Disability
Authorized Certifying Authority will be a Medical Board duly constituted by the Central/ State Government having at least 3 members consisting of Chief Medical Officer, Sub-Divisional Medical Officer in the District and an Orthopedic Surgeon, Ophthalmology Surgeon, ENT Surgeon, as the case maybe. Prescribed Formats of SC, ST, OBC, PWD certificates to be submitted at the time of interview etc. can be downloaded from our website. Candidates belonging to these categories are required to produce the certificates strictly in these formats only.
E. HOW TO APPLY
Applications have to be submitted online from 06.12.2016 and not later than 22.12.2016. No other mode of application will be accepted other than online applications.
F. PRE-EXAMINATION TRAINING
Pre-Examination Training will be arranged by the Bank to the candidates belonging to Scheduled Caste/ Scheduled Tribes/ Minority Communities/ PWD at Chennai, Thiruvananthapuram, Chandigarh, Bengaluru, Kolkata, New Delhi, Mumbai, Vijayawada, Lucknow, Jaipur and Bhopal.
All eligible candidates who opt for and wish to avail of Pre-Examination Training should fill in the relevant column in the ON-LINE APPLICATION. While training will be imparted free of cost, all other expenses regarding travelling, boarding, lodging etc. will have to be borne by candidates for attending the pre-examination training programme at the designated Centres. Bank reserves the right to cancel any of the Pre- Examination Training Centres and/ or add some other Centres and/or make alternate arrangements.
Attending the Pre-Examination Training does not entail any right to the candidate to be selected in the Bank.
G. CALL LETTERS
Call letters for the Preliminary Exam/ main Exam/ Personal Interview will be issued to all eligible candidates through electronic mode only.
Candidates are advised to download their call letter from the bank's website by entering his/ her details i.e. Registration Number and Password/Date of Birth. No hard copy of the call letter/ Information Handout etc. will be sent by post/ courier.
Also, Intimations will be sent by email and sms to the email ID and mobile number registered in the online application form for the Examination respectively. Bank will not take responsibility for late receipt / non-receipt of any communication sent via e-mail/SMS to the candidate due to change in the mobile number, email address, technical fault or otherwise beyond the control of Bank. Hence Candidates are advised to regularly keep watching the Bank's website for details, updates and any information which may be posted for further guidance as well as to check their registered e-mail account from time to time during the recruitment process.
H.  SELECTION PROCESS
Candidates will be selected by Indian Bank through a selection process consisting of an online test (Preliminary and Main Examination) followed by Interview.
The selection process aims at getting candidates who are likely to succeed at various roles in the Bank. The endeavor is to select candidates who are bright, have good communication skills (both oral and written), are dedicated, can work effectively in teams, are passionate about their career goals and who display integrity and a positive attitude.
a) PRELIMINARY EXAMINATION
The structure of the Preliminary Examination (objective type) which will be conducted online is as follows:


b) MAIN EXAMINATION
The structure of the Main Examination which will be conducted online is as follows:


The above tests except the tests of English Language (Objective) and English Language (Descriptive), will be available bilingually, i.e. English and Hindi.
Descriptive Test paper will be evaluated for those candidates who have qualified in the objective tests.