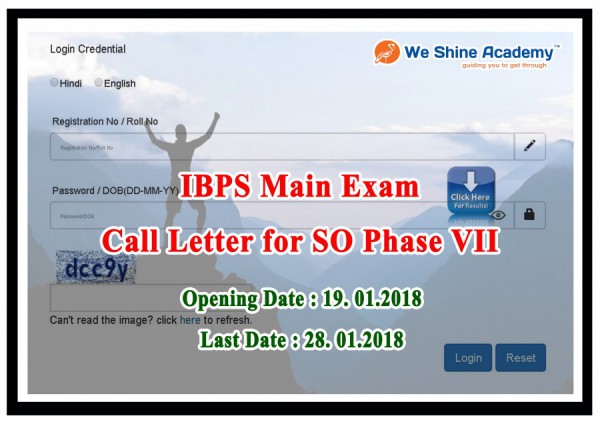 Opening Date : 19.01.2018
Last Date : 28.01.2018
View Call letter : Click Here 
IBPS – SO Preliminary
Exam Call Letter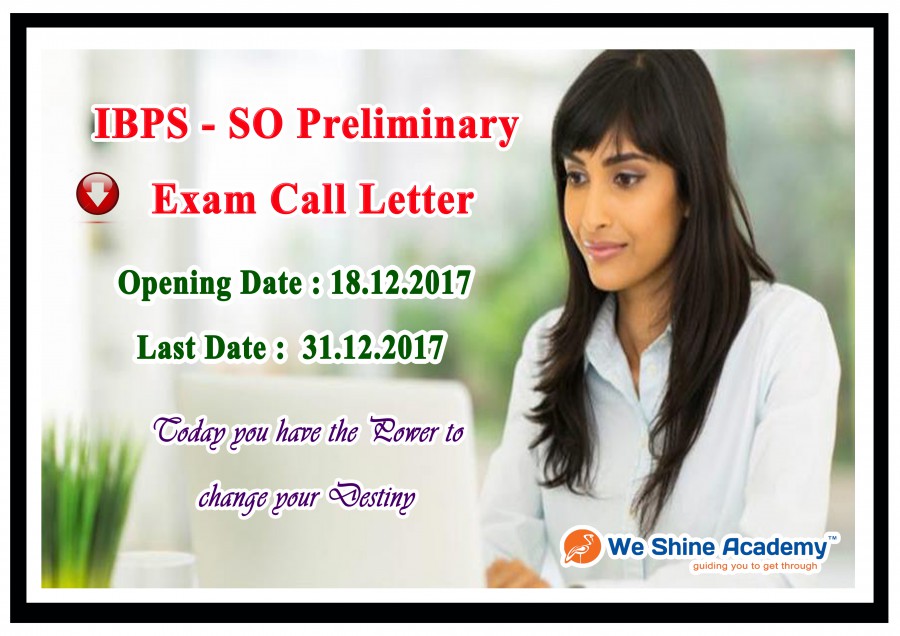 Opening Date : 18.12.2017
Last Date : 31.12.2017
View Call letter : Click Here
IBPS – SO Notification 2017
Opening Date : 07.11.2017
Last Date :  27.11.2017
Vacancies : 1315
Apply Online : Click Here
Official Link : Click Here
* Note : Previous year question paper, syllabus, cutoff,  pattern and other details available here (Start scroll towards down ) *
Name of Postings
Age Limit
Age Relaxation
SC/ST -> 5 years
OBC -> 3 years
Persons With Benchmark Disabilities -> 10 years
Date to Note
 Date for Online Application & online payment  07.11.2017 to 27.11.2017
Qualification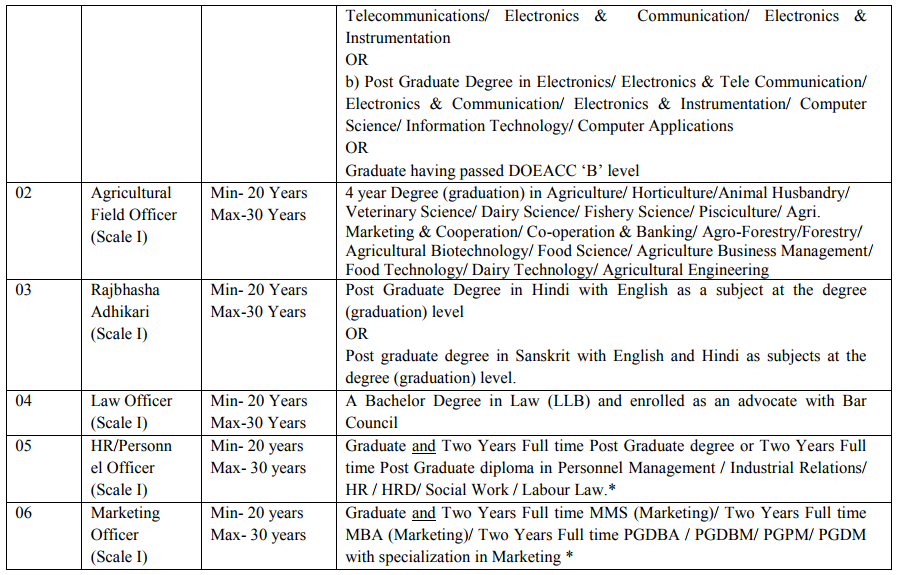 Previous Year Cut Off(2017)
Combined Scores in CWE and Interview out of 100
Minimum Cut Off
Posts
 
Category
SC
ST
OBC
UR
HI
OC
VI
IT Officer
58.0
52.6
60.6
62.6
38.8
57.2
NA
Agriculture
Field Officer
31.2
29.2
34.8
35.0
20.4
32.0
27.2
Rajbhasha
Adhikari
52.0
46.6
55.6
52.6
NA
29.8
73.6
Law Officer
48.0
31.8
51.6
57.4
26.4
44.4
46.0
 HR/Personnel Officer
57.2
55.4
57.6
60.6
36.4
48.6
43.2
Marketing
Officer
63.4
51.8
65.4
67.2
44.4
65.2
52.8
Maximum Cut Off
Posts
 
Category
SC
ST
OBC
UR
HI
OC
VI
IT Officer
68.4
68.8
68.2
73.4
40.0
66.0
NA
Agriculture
Field Officer 
50.0
47.4
52.5
60.4
36.80
40.6
46.8
Rajbhasha
Adhikari
61.4
59.0
86.4
82.6
NA
54.8
75.6
Law Officer
75.2
60.4
63.8
76.8
26.4
58.6
56.6
 HR/Personnel
Officer
64.8
60.4
68.2
78.8
36.4
48.6
43.2
Marketing
79.60
70.80
82.00
85.20
44.40
72.00
69.20
Exam Syllabus
Reasoning
Seating Arrangement
Puzzles
Inequality
Syllogism
Input – Output
Data Sufficiency
Blood Relations
Order and Ranking
Alphanumeric series
Distance and Direction
Verbal Reasoning
Quantitative Aptitude
Number Series
Simplification / Approximation
Data Interpretation
Quadratic Equations
Data Sufficiency
Mensuration
Miscellaneous Topics ( Average, Profit & Loss, Simple and Compound Interest, Time & Work, Time & Distance, Partnership, Ratio & Proportion, Problem on Ages, Probability)
English
Reading Comprehension
Cloze Test
Spotting Errors
Sentence Improvement/ Correction
Para Jumbles
Fill in the blanks
Para / Sentence Completion
General Awareness
Knowledge of Current Events
Sports
History
Geography
Culture
Indian Constitution
News about Technology & Research
News on India and its Neighbouring Countries
Books & authors
Currencies
Important Places
Awards
Headquarters
Prime Ministers Schemes
Important Days 
Countries visited
Major MOU 
professional knowledge
 IT Officer 
Database Management System
Data Communication and Networking
Operating System
Software Engineering
Data Structure
Computer organization and microprocessor
Object-Oriented Programming
Agriculture Field Officer
Basics of Crop production and improvement
Horticulture (Spacing time of sowing seed rate, Important varieties, Herbicides Pesticides, Preservation of fruits and vegetables, Types of cropping system, Different plant  diseases)
Seed Science
Agronomy and irrigation
Agricultural economics
Various types of agricultural practices
Soil resources
Animal husbandry and technology
Agricultural research, education and extension
Agroforestry and Ecology
Priority sector advances
Rural welfare activities in India
Different insurance schemes regarding agriculture
Various government schemes
 Marketing Officer 
Basics of Marketing Management (4 Ps of Marketing)
Brand management
Advertising, PR, sales promotion
Basic knowledge of retail management
Business ethics
Market Segmentation
Marketing Research and forecasting demand
Product life cycle
Intellectual Property Rights (IPR)
Corporate social responsibility
Services Marketing
Marketing Strategy
Law Officer 
Banking Regulation & Compliance and Legal Aspects
Relevant laws and orders related to negotiable instruments, securities, Foreign Exchange.
Prevention of money laundering, Limitation Act
Consumer Protection Act
SARFAESI
Bankers Book Evidence Act, DRT Act.
Banking Ombudsman Scheme
Offenses and Penalties
Law and Acts with direct and Indirect Implication on the banking sector like Contract Acts, Partnerships, Companies, Firm, Constitution
HR/ Personnel Officer
Human Resource Development: Strategies and Systems.
Business policy and strategic analysis
Transnational Analysis.
Training and Development.
Recruitment and Selection.
Rewards and Recognition
Industrial relations.
Business policy and strategic analysis
Grievance and conflict management
Performance management and appraisal
Exam Patterns

 Previous Year Question Paper